Limited Edition No More Heroin 15″ Survivor Girl Bear
$35.00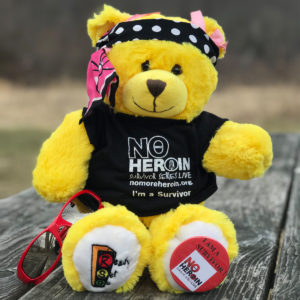 The Survivor Bear exclusive to nomoreheroin.org
Product Description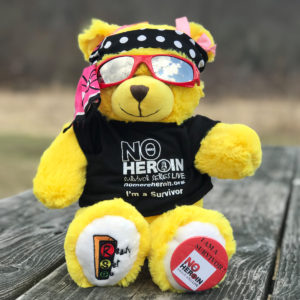 This is a limited edition bear exclusive to nomoreheroin.org. Quantities are limited.
This is a beautiful bear that has pink ribbons and is super soft. It measures a large 15″ and has the logo Ready Set Go to remind you that you are and can be a survivor. There is a button on the foot with the logo of the No More Heroin Organization, and the Positive Message that reads I'm a Survivor.
The Survivor bear wears a black shirt with the No More Heroin Logo. It comes with a matching bandanna and red sunglasses.
The bear was made in memory of Stefan Robert Bates who passed away on 5/14/17 from a deadly overdose.