Go to Shop Anti-Bullying Bears & Jewelry

: (Click Here)
About Ready Set Go Bears
Welcome to the world of Ready Set Go – educational products to empower self-esteem with children! Let's start by telling you a little a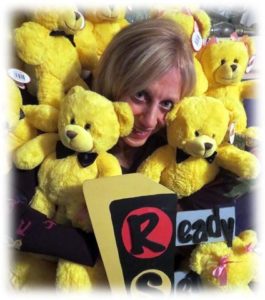 bout ourselves so you can learn what inspires us and why we are so passionate!
Who we Are
As a dedicated teacher for 10 years, and a mom of a child who suffered from Separation Anxiety Disorder, and A.D.H.D, Carol Cooper, Founder, was inspired to create a line of products to help children feel good about themselves. Through positive role model characters, Brian and Brianna, meaning strength, teach children to look at things differently. The products were developed over a ten-year trial and error period, and they are finally completed and ready to go home with a child to help empower self-esteem. The bears are proven to work, and the results are amazing.  These bears are only the first to be introduced. Along the way, Brian and Brianna will meet new characters who will help them to deal with issues, such as separation anxiety disorders, death or divorce of a parent or loved one, fears of various situations, and so forth. Be sure to keep watching. After all, all children deserve to smile and that is what her bears are here to do for them.
Our Recognition
Brian and Brianna earned the Gold Mom's Choice Award and the Excellence Able Play Award. For more information on these great accomplishments, click on the badges below.
Introducing Brian and Brianna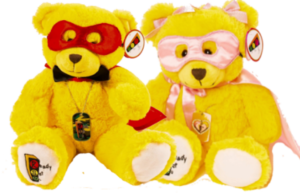 Introductory Collection features a pair of adorable, cute, yellow teddy bears named Brian and Brianna. The names were chosen because of their origins which mean "strength".
Each bear is accompanied by wonderfully, easy to read instructional booklets designed to educate not only children, but also to help adults learn how incredibly useful a tool these bears can be. These set of bears showcase each bear's struggle with confidence and self-esteem.
A portion of Ready Set Go sales will go to organizations that focus on helping children in need such as the Children's Specialized Hospital.
How did we start?
Our concept and design have been a long journey, taking nearly 10 years to complete. Each step of the way consulting with professionals in the therapy industry, manufacturers in the toy industry and testing our products appeal with hundreds of children and adults. The results are these wonderful proven Ready Set Go Bears (Brian and Brianna). We are excited to announce the launch of our NEW website carefully designed to be educational, informational and just plain fun to visit and even more fun to shop at. Please check back frequently for exciting new products that we will be adding to our website!
What was our Mission?
Ready Set Go was established to provide products that support fostering self-esteem in children.
Her love for teaching children is what inspired founder and designer Carol Cooper to create a Ready Set Go Play Therapy Kit, along with a line of signature jewelry to help children build self-confidence and develop a positive attitude. 
Each learning kit includes a bear with a special story that focuses on the experiences of children who struggle with low self-esteem. The Ready Set Go message provides positive affirmations …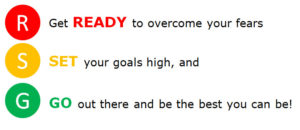 Through inspirational characters, children can role play and practice the Ready Set Go approach to help them feel more confident.
Testimonials
We are grateful for the support of our loyal customers who continue to spread the word about us. At Ready Set Go, our goal is to offer an unmatched selection of unique and inspirational therapy products that empower children to build healthy self-esteem while providing a pleasant shopping experience through outstanding customer service.
If we can help make every child who holds one of our products in their arms smile, then we've done our jobs. Please read what some of our customers are saying about us!
"I bought one for my friend's daughter who a special needs child and she actually went crazy over this bear, necklace, and jewelry set. This is something that inspires kids to always do their best yet comforts them at the same time. She loved the softness and the colors. This is really an inspired line not just for autistic kids but for any child that struggles and could benefit from a " friend" understanding some of the trials and tribulations these kids go through in everyday life. I highly recommend!" Five Star Review
~ Amazon Customer, November 21, 2014

"Children's Specialized Hospital Foundation was lucky enough to receive Ready Set Go bears for our 2015 Advokids Superhero event. Our AdvoKIDS program allows our families and children to participate as an ambassador for Children's Specialized, as a result of Carol Cooper's donation, every child who was a part of the 2015 Advokids program, received and loved the bears. The Ready Set Go system & principals really resonated with our children and families."
~ Sara MacDuff, Community Engagement Manager, January 15, 2016 
On Thu, Jan 21, 2016, Dr. Yesenia Flores-Pinos at Bergen Psychology wrote: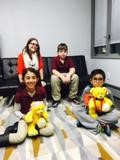 Utilized in our assertiveness training social skills group.
The Ready! Set! Go! Bears are currently being utilized by clinicians at Bergen Psychological Services.  These bears are effective in helping children understand friendship skills, assertiveness, and sets the foundation for increasing self-regulation skills.  We love how the bears can be utilized in individual sessions or a social skills group setting.  Definitely recommending these bears to other clinicians!
Dr. Yesenia Flores-Pinos, Psy.D.
NY & NJ Licensed Psychologist & Owner of Bergen Psychological Services, LLC
Ready Set GO! I love Brian the Bear!
By Tabitha @ShoppingWives on March 8, 2016
Ready. Set. Go.
What does those 3 words mean to you? I guess if you had said them to me before I would've waited for a race of some sort to start or something to begin. Now when I hear them I think of something else. Let me tell you about it!
Get READY to overcome your fears.
SET your goals high AND
GO out there and be the best you can be!
Now meet Brian. He is a Super hero bear. Brian is here to spread the above message to anyone that needs to hear it. Brian is a cute soft yellow bear. He is so soft and cuddly, and I fell in love with him the moment he showed up on my doorstep. Brian is a superhero and no super hero can function without their cape and blindfold, right? Brian has a cute black blindfold that can be taken off or left on. He has a red cape that has the words Ready Set Go printed on it. These words are also on the foot of Brian the bear.
While you can use these bears for many different children and different circumstances, I love the fact that these bears can be used to boost children that may be bullied or have low self-esteem.
Like everybody, Brian has his own story. You see Once upon a time Brian was a average bear. He wasn't a happy bear either. He didn't have many friends and he didn't like to go to school. He felt like he wasn't any good at anything, he had trouble reading and all his classmates seemed to do everything better then him.
One day Brian's world changed. He met an elderly lady while walking home from school. He was kind of afraid but there was something about the lady that he trusted. She told him not to be afraid. To close his eyes and say, "get ready to overcome my fears! Set my goals high and to always be the best I can be!"
When Brian opened his eyes he was different! The lady was gone. Brian had turned into the Ready Set Go Bear!!! Around his neck he found a pendant. On the pendant it also has ready set go. When he sees it reminds him to always face his fears and be his best.
The necklace is meant to come off Brian for your child to wear. This will help your child to be the superhero that you already know he is.
These really are not just ordinary plushies. They have meaning behind them. I think they would make a great item to put with Easter Baskets, for birthdays or just because.
Brian also comes in this cute see through read drawstring bag with his story and several pieces of info on self-esteem.
5.0 out of 5 starsThe Best Tool We Have Found For our Daughter
By A E G on March 8, 2016
This is such an amazing idea for kids. Our daughter (10) has had problems in the past with bullying and low self-esteem. Even though we have tried so many different approaches, we still battle the issues of- Why am I different? Why am I not good enough? Why are other kids mean to me? The list goes on forever it feels like. The Brianna Bear is showing more progress than any other treatment we have tried, and all this is, is a bear, so I thought.
The literature that comes with her and the necklace have proven to be invaluable. We told her the necklace is Brianna's, but she can borrow it on the days that she doesn't feel like a super hero, to give her the reminder that she is amazing and not to forget. I cried when she didn't wear the necklace today. She is helping herself to be brave. How would Brianna feel or what would Brianna say are questions that we ask.
She doesn't feel so pressured to answer and we have been getting less "I don't know" answers. Brianna is a Super Hero and can say what's on her mind, even i her feelings are hurt and can also report back to us if our daughters having a bad day. By asking what Brianna's best and worst part of the day were using the Happy and Crappy Game.
Brianna's silky mask and cape are the perfect finishing touches for this super push bear. Our daughter is coming through so many hard issues and it's getting so much easier with this amazing tool disguised as a teddy bear.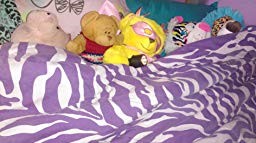 Views and Reviews Videos
People are now referring to Brian and Brianna as the READY SET GO Superhero ANTI-BULLYING bears. Watch this video to see why!
Watch Brian and Brianna magically turn into SUPERHEROS! Anything can happen when you believe in yourself. Ready. Set. Go!